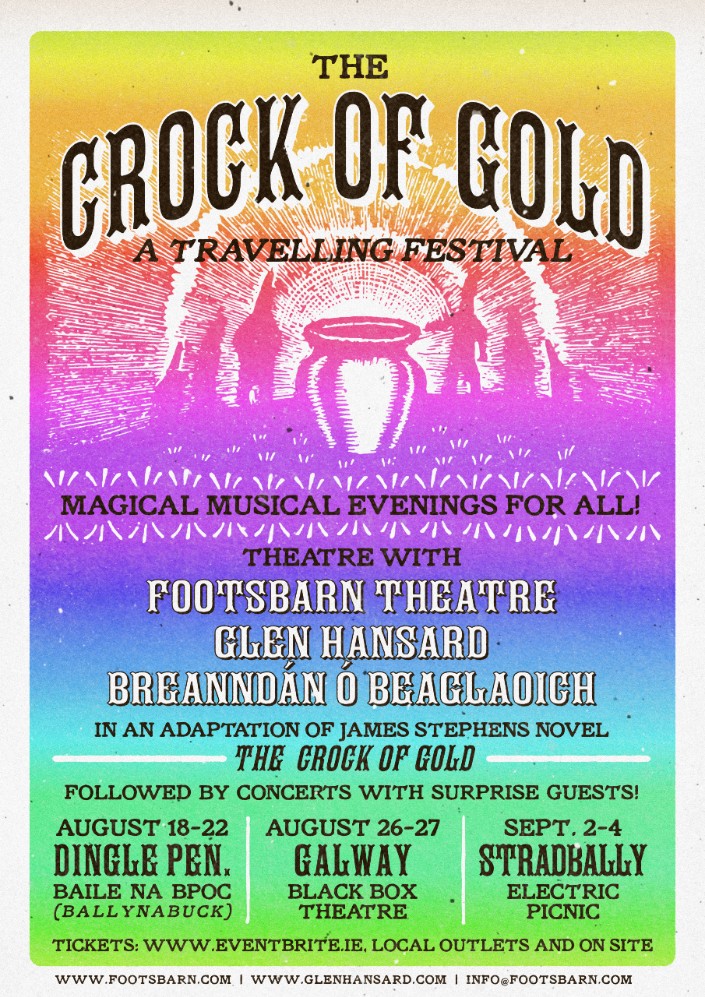 The Crock of Gold, a collaboration between Footsbarn Theatre, Glen Hansard and Breanndàn OBeagloich
Footsbarn Theatre kicks off their 2022 CROCK OF GOLD Irish Tour in Balle na bPuck (Ballynabuck), Dingle August 18-22!
For 4 evenings, in the magical Footsbarn Tent pitched in a field on the wild Atlantic Way, you will be entertained firstly by a theatrical performance of The Crock of Gold with live music by Glen Hansard and Breanndán Ó Beaglaoich followed by a performance by some of our musical friends. On the 5th night, the 22nd, there will be no theatre performance, just pure Ó Beaglaoich Family + Friends all the way!
The itinerants' itinerary:
Thursday 18 August – Dingle
19.00 – The Crock of Gold
21.30 – Rónán Ó Snodaigh & Myles O'Reilly
with guest The Messages
buy tickets
Friday 19 August – Dingle
19.00 – The Crock of Gold
21.30 – Glen Hansard with guest Lemoncello
buy tickets
Saturday 20 August – Dingle
19.00 – The Crock of Gold
21.30 – Interference with guest Sadie Jemmett
buy tickets
Sunday 21 August – Dingle 
19.00 – The Crock of Gold
21.30 – Junior Brother with guests Stephen James Smith
& Zoe Hayter
buy tickets
Monday 22 August – Dingle
21.00 – The Ó Beaglaoich Family + Friends
There will be NO theatre performance of the Crock of Gold tonight, just pure Ó Beaglaoich Family + Friends all the way!
buy tickets
Following the Dingle stop, Footsbarn heads to Galway's Blackbox Theatre Aug 26-27 & Electric Picnic Sept 2-4.
Enquiries can be made to feelitfestival@gmail.com.
GALWAY – BLACK BOX THEATRE
Fri 26 & Sat 27 August, 8pm
Tickets €30*/€26*
Buy here!
Duration 100 mins, no interval

ELECTRIC PICNIC FESTIVAL
STRADBALLY HALL, CO. LAOIS, IRELAND
2 — 4 SEPTEMBER 2022
*SOLD OUT*
https://www.electricpicnic.ie/

Footsbarn Travelling Theatre :: Crock of Gold [Feat: Glen Hansard and Breanndán Ó Beaglaoich] – a short film by Myles O'Reilly 

Music by Glen Hansard.
About The Crock of Gold
Adapted from The James Stephens' novel, this unique, comic novel is a fertile mixture of Irish folklore, modern fable and mythology.  Extremely funny and full of wisdom and magic, it and its author have been somewhat forgotten in the canon of Irish literature, however, this sad fact has given us a terrific opportunity to restore it to the place where it should still be – a vital part of Ireland's rich cultural heritage which can only deepen the connection between people, place and the past.
With a comic and intricate web of philosophers, leprechauns, pagan gods and policemen, this tale leads us from darkness to light while asking some of life's fundamental questions … 
Artistic list:
Philosopher: Vincent GRACIEUX
Philosopher, Meehawl, The Fat Woman, Brigadier, Looradain: Paddy HAYTER
The Thin Woman, Cathleen: June MCGRANE
Brida, Looradain: Zoe HAYTER
Seumas, Looradain: Henri ALEXANDRE
Angus Og, Shawn, Looradain: Haris Haka RESIC
The Grey Woman, Pan, The Old Lady, Policeman, Looradain: Tony WADHAM
Musician: Glen HANSARD
Musician, Narrator: Breanndán O BEAGLAOICH
Young boy: Maire SAARITSA / Jules HARRAP
Technical list:
Artistic Direction: Paddy Hayter, Vincent Gracieux
Text adaptation: Vincent Gracieux
Music: Glen Hansard, Breanndán O Beaglaoich and Footsbarn Theatre
Set design, masks, props: Fredericka Hayter
Projections: Sophie Lascelles
Costumes: Pascaline Riccardi
Lighting designer: Jean Grison
Lighting operator: Jules Harrap
Stage manager: Léo Laforet
Duration: 90 minutes with no interval
The story
The main character, the philosopher, leaves his family and the darkness of the forest of Coilla Doraca in search of a girl kidnapped by the God Pan. On the way he meets a multitude of characters and incredible situations that illustrate the on-going problems of our society. His journey becomes an odyssey that will change him forever.

The author
James Stephens was born in Dublin in 1882 and died in 1950 in London. His father died when James was only an infant and his mother abandoned him when he was six years old. He lived on the streets for a time having ran away from school. He became a writer and it was the success of his comic novel, The Crock of Gold (1912) that enabled him to live and write full-time in Paris for a few years. Stephens is regarded as one of the most Irish of all Irish writers, his style being playful, funny, mischievous, poetic, lyrical and whimsical. He is regarded as being utterly unique and original; a fact that can possibly be attributed to his being largely self-taught. Stephen himself describes the novel as a metaphor for the awakening and liberation of the Irish people.